Experts share organization tips and staples for the college-bound By Anna Kocharian
A typical dorm room is equipped with three basics: a bed, a desk, and a dresser. In the limited confines of what you're allotted, finding extra storage space can be challenging. Factor in a roommate and things are bound to get even cozier. Whether you're setting off for your first semester of college or you're a seasoned vet who has done drop-offs for years, there's a thing or two to learn when it comes to organizing and shopping for a dorm. 
Back-to-school shopping can be overwhelming—never mind carving out space to store what you bought. So to help the college-bound and their families pinpoint the must-haves, we turned to organization experts for their take on dorm storage essentials, including helpful product suggestions.
Plan
Before leaving for school, think carefully about what will be needed and used, says Karin Socci, founder of The Serene Home, a professional organization service. "If the item is not something you use at home, such as dressy clothing, sporting goods, or books, it is unlikely you will need it at school."
Instead of packing extra sets of towels and bedding, get into the practice of washing them on a regular basis and reusing the same set or two. And if you're looking to buy a coffee maker or another small appliance (such as a hair dryer) see if your roommate wants to go in on one together, Socci suggests.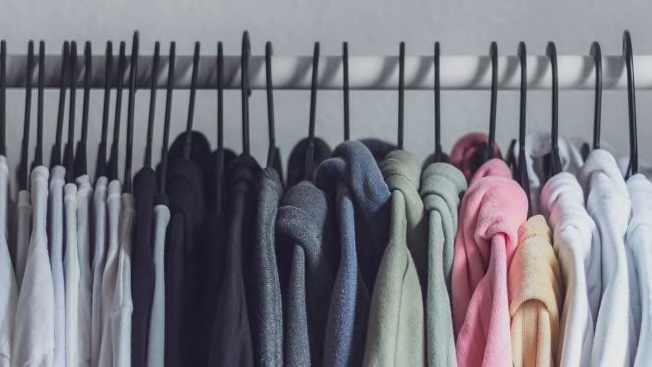 Photo: Getty Images
Use Every Inch of the Closet
While the closet may be a prime source of storage in a dorm, it's limited. One easy way to save space? Skip the bulky hangers. A certified professional organizer, Mackenzie Scott of Mission 2 Organize, recommends slim hangers—either felt or plastic will do—to maximize the capacity of the closet. 
When hanging items, group longer pieces together and relegate shorter ones to the other end to create room for freestanding storage units or shelves. Scott recommends a plastic drawer system that can house everything from clothes to shoes. 
Also, make sure to take advantage of all the vertical space available. For example, use the area above any hanging space in the closet for baskets to hold lightweight items such as socks or intimates, Scott recommends.
The Shopping List
Shop baskets:
• Honey-Can-Do Task-It Woven Basket in gray, set of two, $12 at Amazon and Walmart
Shop slim hangers:
• Amazon Basics Slim Hangers, set of 50, $29 at Amazon
• Rebrilliant Velvet Hangers, set of 50, $33 at Wayfair

Shop storage bins:
• Life Story Plastic Stackable Clear Shoe and Closet Storage Box Container Bin With Lids, set of 10, $29 at Target, 20-pack for $48 at Amazon
• Sterilite Wide 3-Drawer Chest With Wheels, $20 at Walmart, $25 at The Container Store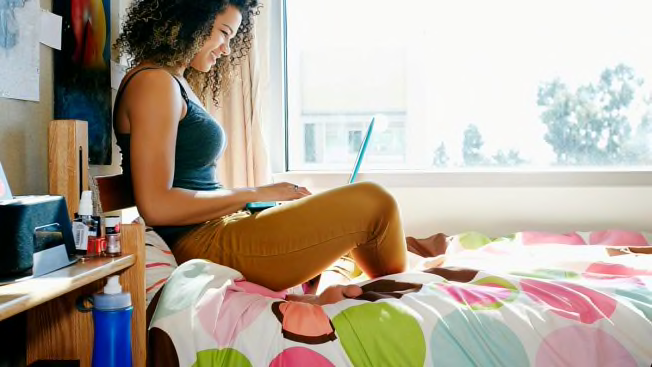 Photo: Getty Images
Elevate the Bed
Outside of the closet, the next best opportunity for storage is under the bed. While baskets and bins can easily slide in underneath, bed risers are a great way to add a few extra inches of clearance space. This dorm-room staple is available in a variety of sizes and can be made from wood, polypropylene, or carbon steel (a sturdier option if you're looking for something taller). But their functionality doesn't stop there.
"Many bed risers come with built-in power outlets, which can be a great opportunity to provide ease of access to an outlet from the bedside," Scott says.
For more options: Under-the-Bed Storage Options to Help Banish Clutter

The Shopping List
Shop bed risers:
• Honey-Can-Do Bed Risers, set of four, $16 at Home Depot, $14 at Walmart

Shop under-the-bed storage:
• Sterilite 60 qt. Clear View Underbed Storage Bin, $25 at Target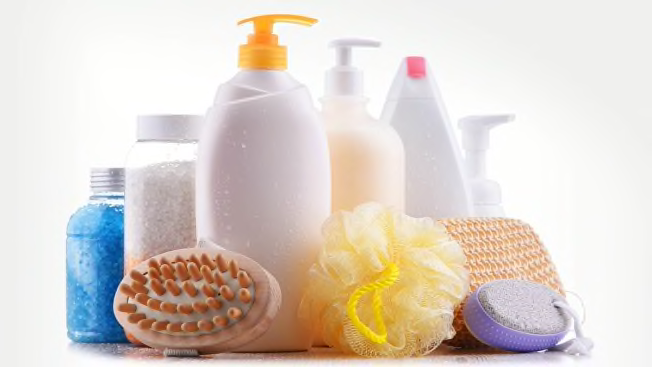 Photo: Getty Images
Keep Bathroom Essentials Portable
Living in a dorm usually means having to use a communal bathroom. "The best method for bathroom-sharing is to get a bath caddy, especially if your bath area is down the hall or not attached to your room," Scott says. It will make it easy to tote essentials back and forth and give the items a dedicated home. 
A caddy will make it easy to carry the essentials. A similar approach can be used for makeup by creating a basket or case that holds all your products so you can pull them out, use them, and put them away, Scott adds.
The Shopping List
Shop bath caddies:
• Madesmart Soft-Grip Tote, $13 at Target, a similar one for $14 at Amazon

Shop baskets: Amazon, Target, Wayfair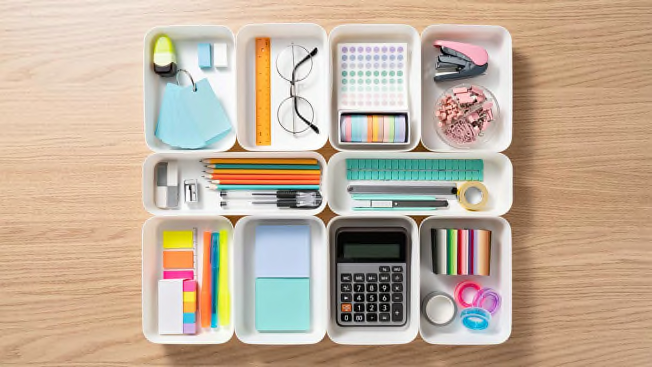 Photo: Getty Images
Organize the Desktop
An organized desktop is essential for carving out a productive workspace, especially because the space will probably be getting a lot of use. Consider your work style and whether you do well with visual clutter, says another professional organizer, Tana Ching. If you're okay with being surrounded by piles of textbooks and notepads, she recommends grouping materials by subject matter and clearly labeling them. If you prefer things to be out of sight, opt for a portable file box to keep your staples in line without having to clutter your desktop. 
"Treat your desktop as prime real estate," Socci says. The more cluttered your desk is, the harder it will be to find the things you need. "Create a folder for each class and others for various social activities, and become diligent about filing things electronically." For example, paper syllabuses can be scanned and stored digitally on your laptop or computer. 

Shop file holders: Ikea, Target, Wayfair
Last but not least, remember that you don't have to take everything with you right away, Scott says: "Travel light for fall, and if you find you really need extra items, grab them during your first break home or buy them when you get to school." 
Consumer Reports is an independent, nonprofit organization that works side by side with consumers to create a fairer, safer, and healthier world. CR does not endorse products or services, and does not accept advertising. Copyright © 2023, Consumer Reports, Inc.