Organic Baby Food Delivered Right To Your Door
Nutrients are critical to your baby's growth, especially during those first two years. Organic baby food is a great option for your little ones as they reach developmental milestones.
From berry blends to finger foods, these organic baby foods can be delivered right to your doorstep. Simply choose the menus or plans that work best, set your preferred subscription, and expect these made-to-order meals in no time at all. Watch out Gerber, there are new baby food labels in town!
Baby not eating solids just yet? Here are our favorite organic baby formulas to consider.
---
1. Little Spoon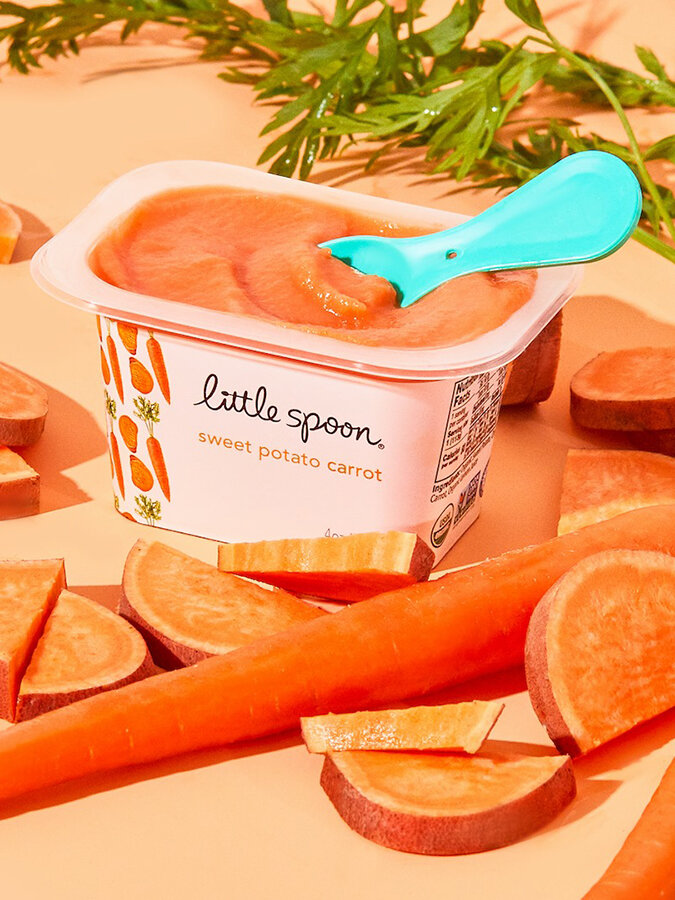 Ethics | USDA-certified organic ingredients, big-8 allergen-free, GMO-, preservative, & additive-free, recyclable packaging
Food Types | Puree blends, toddler & child meals, natural boosters
Delivers To | Continental US
Pricing | $2.74-$3.49/serving for Babyblends, $4.99-$6.49/serving for Plates, & $6 shipping
Little Spoon takes mealtime off your plate with its fresh organic baby food. These blends are made in small batches with certified organic ingredients, including mangos, broccoli, and avocado. Plus, Little Spoon's meals stay fresh in your freezer for up to three months—so you can plan in advance! There's a rotating menu for every stage of your baby's development, all free of the major allergens. It's never been easier to keep your little one healthy.
---
2. Yumi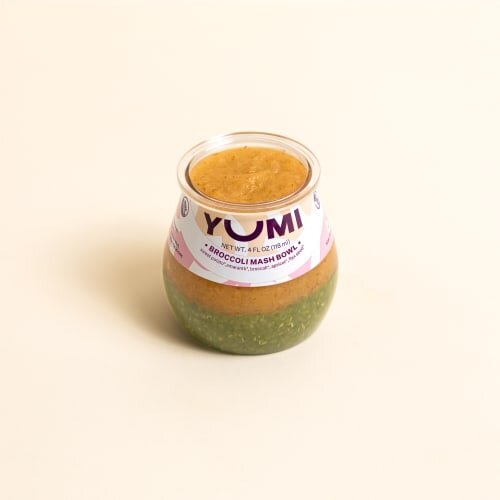 Ethics | USDA certified organic, gluten-, preservative-, & dairy-free, big-9 allergen-free, no added sugar, recyclable packaging
Food Types | Puree blends, pinchables & finger foods, multivitamins, snacks
Delivers To | Continental US
Pricing | Weekly plans start at $28/8 jars
Get fresh, whole meals for your little one with Yumi's yummy baby food. Its innovative line of blends, pinchables, finger foods, vitamins, and snacks meets your baby where they are, based on suggested ages. Yumi has even won the Clean Label Project's Purity Award for its blends. Simply pick the plan that works for you, and expect freshness (in a recyclable box) once a week!
---
3. Tiny Organics
Ethics | 100 percent organic, plant-based ingredients, Big-8 allergen-free, recyclable packaging, no added salt
Food Types | Breakfast, lunch, & dinner bowls, family time meals, lactation bites
Delivers To | Continental US
Pricing | Starts at $4.69/meal
Tiny Organics's mission is to make easy, thoughtful, and plant-based meals for your little ones. These fully organic foods—like banana breakfast bowls and Valencian paella—are intentionally tailored for developmental milestones, thanks to a team of neonatal nutritionists. Tiny is so good, even Former First Lady Michelle Obama speaks highly of them! Get up to 24 meal options per week, deliciously made for your baby or toddler.
---
4. Once Upon A Farm
Ethics | Certified B Corp, organic, GMO- & preservative-free, recyclable packaging, gives back
Food Types | Fruit & veggie blends, smoothies, overnight oats, yogurts
Delivers To | Continental US
Pricing | $64.56 for 24 pouches & free shipping
Once Upon A Farm is a certified B Corp started by a mom you may have heard of: actress, farmer, and activist Jennifer Garner. The team aims to nurture our children and planet simultaneously, creating farm-to-fridge blends that everyone loves. These organic, cold-pressed, and most importantly, no mess options come in a variety of flavors, like green kale and apple or blueberry and spinach. Set up a subscription, or mix and match a 24-pack of your favorites.
---
5. Serenity Kids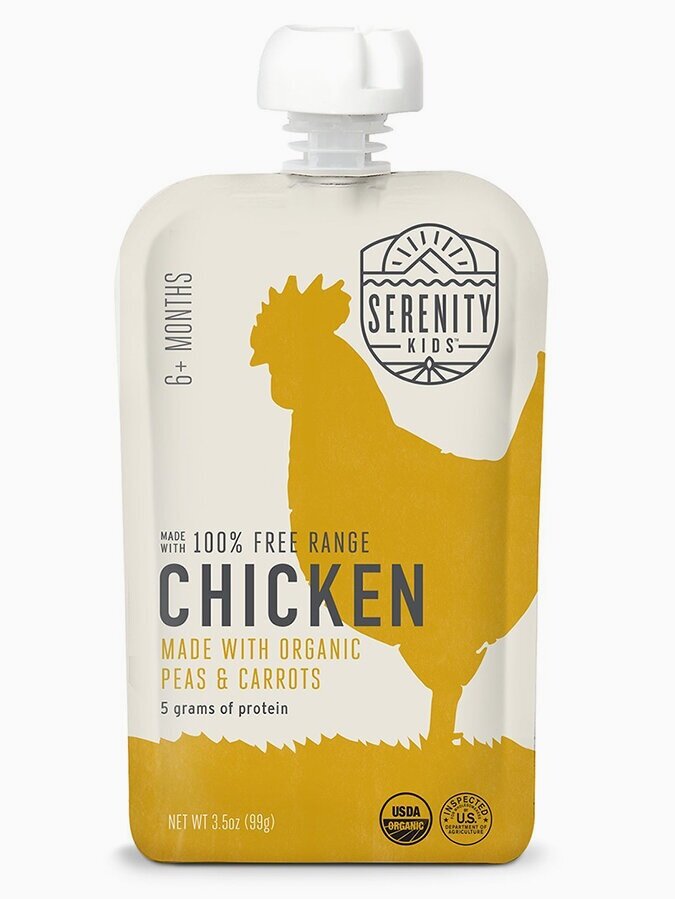 Ethics | USDA certified organic, ethically sourced meats, GMO- & preservative-free, eco-friendly packaging
Food Types | Meat pouches, veggie pouches, bone broth pouches, grain-free puffs, toddler formula
Delivers To | Continental US
Pricing | Starts at $16.75 for 6 pouches
Serenity Kids offers convenient kid food without compromise. Started by two parents themselves, these meals are made with pasture-raised meats from small American farms, organic vegetables from farmers using regenerative practices, and grain-free puffs. We love the kid-friendly introductions to wild-caught salmon, bone broth, and butternut squash. Yum!
---
6. Omami
Ethics | Certified organic, recyclable packaging, additive & preservative-free, free of 14 major allergens, vegan & vegetarian-friendly
Food Types | Blends
Delivers To | UK
Pricing | Starts at £49 for 14 blends
This UK brand wants to help you make magic at mealtimes, using 37+ organic ingredients in made-to-order recipes. Omami is all sustainable, too—from its eco-friendly cold-press system to recyclable packaging. Choose from one of the specially curated boxes for varying age groups, or go a la carte for specific blends like mango and buckwheat or sweet potato and white bean. No matter what you choose, your little one is likely to love it.
---
7. Bio Bambino
Ethics | Certified organic, GMO-, palm oil-, & preservative-free, sustainable agriculture, locally sourced
Food Types | Puree blends, stews, pasta & meat meals
Delivers To | Melbourne metro area & some regional cities in Australia
Pricing | $6.95/meal
Australian brand Bio Bambino is on a mission to provide healthy and tasty meals for babies and toddlers, using only organic and sustainable ingredients. All produce is certified organic, GMO-free, or locally farmed—and gluten-free. We're big fans of the different stews, pastas, and even risotto for your little one to try. Currently, Bio Bambino partners with iPantry to offer regional delivery, but you may also be able to find these meals in stores across the country!
---
A 30-second newsletter delivered to your inbox each morning with tips for self-care and sustainable living. 🌿 Join over 200,000 readers who start their day with something good.✨
Thank you! Check your inbox for a confirmation email. Xx
---
The Good Trade editors endorse products we genuinely love. If you end up making a purchase through one of our affiliate links, we may earn a commission. Learn more here.
---
RELATED READING