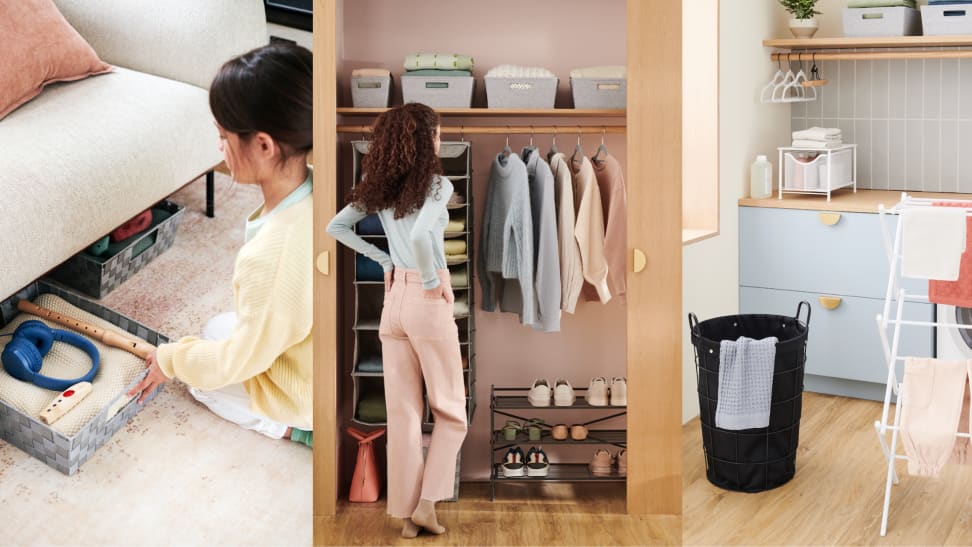 — Recommendations are independently chosen by Reviewed's editors. Purchases you make through our links may earn us a commission.
Over the summer, Bed Bath & Beyond launched an all-new home organization collection called Squared Away. Putting storage and organization at its forefront, the collection includes everything from hangers and shoe organizers to metal mesh drawers, rolling storage carts, and trash cans.
Whether you're a college student struggling to keep your stuff contained on campus, a mom trying to keep your kids' clutter at bay, or a neatnik fashionista who needs to have every article of clothing in your closet just so, Squared Away aims—and claims—to have the answer.
Of course, we had to test out some of these storage solutions to see if we agree.
The test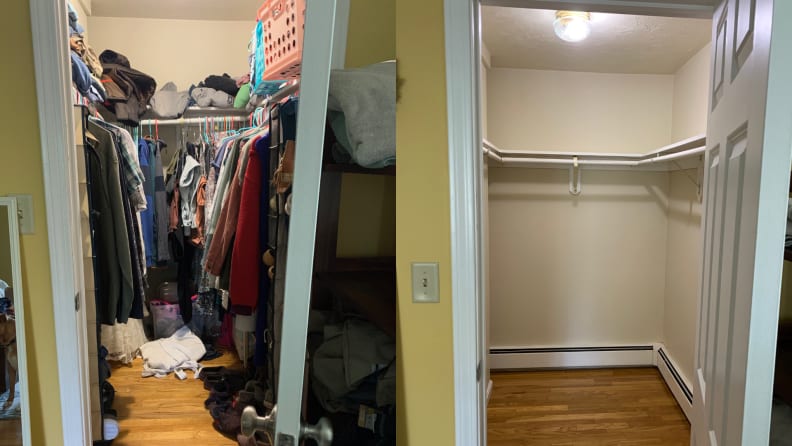 The closet in the master bedroom of my home is a hot mess. Clean, but balled up, socks are tossed around the floor, sweatshirt stacks have fallen over, and my husband's heavy duty Wellensteyn winter jacket is shoved in a corner next to—wait for it—my 10-year-old, full-skirted, and dirty wedding gown.
So, I decided to test out Squared Away's closet organization products, including the velvet slimline suit hangers, the 10-shelf hanging shoe organizer, the underbed storage bags, wood clamp trouser hangers, wood suit hangers with non-slip bar, a three-tier stackable shoe rack, and large and small tweed flared tapered bins.
Could Squared Away help me tame our closet into something that doesn't stress me out every morning?
What we liked about Bed Bath & Beyond's Squared Away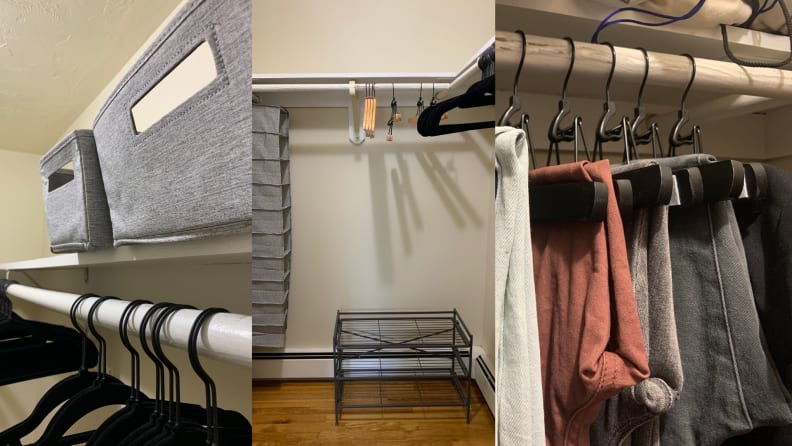 There is a lot to like about this organization and storage collection, particularly when it comes to turning my closet into something Tan France would approve of.
The organization and storage items themselves are all coordinated, in hues of black, white, gray, and natural wood. It all goes together. Plus, there's nice aesthetic touches—especially considering the collection's budget friendly prices—like tweed, arrow weave, denim, and velvet.
As a whole, these items, once put together, naturally coordinate, and the end result is a clean-lined, smart effect that looks like it took effort to create, but really didn't.
Not only are the Squared Away closet storage products beautiful, they're functional, too. I used the hanging shoe organizer for my flats, heels, sandals, and sneakers, and I reserved the 3-tier shoe rack for both ankle boots and full-fledged ones. I have many pairs, since I live in New England. But, you could also easily use this shoe rack for hats, bags, or additional storage bins.
Speaking of storage bins, I used mine for bathing suits, cover-ups, and socks, which I really didn't have a great place to store prior to this exercise. The wood clamp trouser hangers saved me from some bent metal numbers that were older than my marriage, and they keep my jeans and dress pants unwrinkled.
I used the under-the-bed storage bags to hold my winter sweaters, and they actually stack nicely on one of the closet's upper shelves, so I don't have to get down on my hands and knees if it's chilly outside.
Lastly, I love that Squared Away is Bed Bath & Beyond's budget friendly answer to the more expensive solutions you may find at The Container Store. The shoe rack is the priciest of the items I had at $50. The hangers are $25 for a set of 50, the storage bags are $18 for a pack of two, and the storage bins run from $6 to $8 each.
What we didn't like about Bed Bath & Beyond's Squared Away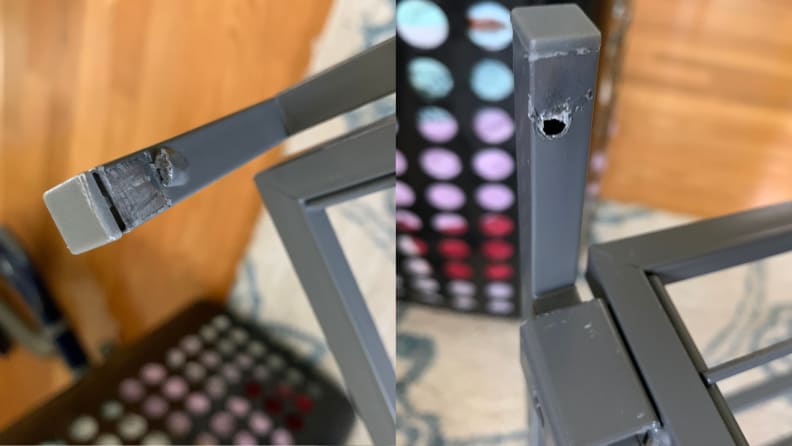 My biggest complaint about some of the Squared Away closet items is they are less sturdy than I wanted them to be. While I was putting together the three-tier stackable shoe rack, which is made out of metal and plastic, the top bar of one of the side pieces detached from where it was welded and left a really sharp metal edge behind that could easily cut my finger when moving it or grabbing a pair of boots.
Also, one of the wood clamp trouser hangers broke before I had ever used it. The metal clamping device attached to the bottom part of the swivel hook bent when I tried to open it, and the hold is too loose to correctly clamp a skirt or pair of pants. I'll take bloom for user error, but I didn't use extraordinary pressure to unlatch the hanger, either.
Bed Bath & Beyond's Squared Away collection features velvet slimline suit hangers in white, gray and black velvet. I decided on the black velvet, because I like how chic it looks. However, when I opened the box and started hanging clothes, I realized that I had black fuzz all over my hands. Luckily, it didn't seem to transfer to the clothes, and I haven't had a problem with it since.
While my test was just to organize my closet, looking at Bed Bath & Beyond's Squared Away collection as a whole leaves me wanting more—more product that is. Squared Away has an abundance of items for closet organization, laundry room sorting and storage, easily cleaned carts for the bathroom, office and desk accessories, and even a few particle board cube organizers and storage benches for kids' rooms and living areas.
But, Squared Away has me missing organization and storage items for the kitchen and pantry. I browsed Bed Bath & Beyond's site, but didn't see that the retailer offers any of its own trademark kitchen storage solutions to fill this void. Sure, there's Our Table, but this is mostly kitchen utensils, pots and pans, and other items to cook with, rather than corral all those utensils or store spices. And there's iDesign, which has some kitchen-friendly organization products.
Maybe Bed Bath & Beyond doesn't feel up to competing with the likes of kitchen storage brands it also sells, like OXO and MadeSmart. But, I'd like to see what Bed Bath & Beyond can do.
Should you buy Bed Bath & Beyond's Squared Away?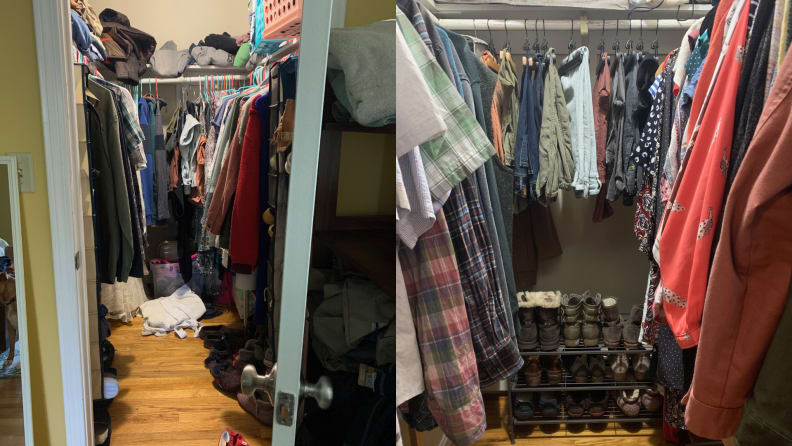 Yes. Bed Bath & Beyond's Squared Away collection offers sleek, smart closet organization and storage solutions, and is an affordable alternative to more expensive systems you would find at retailers like The Container Store.
If you plan to redo your closet, break out some of these items along with your trash bags for good-will donations. You won't regret it.
The product experts at Reviewed have all your shopping needs covered. Follow Reviewed on Facebook, Twitter, and Instagram for the latest deals, product reviews, and more.
Prices were accurate at the time this article was published but may change over time.