NEW!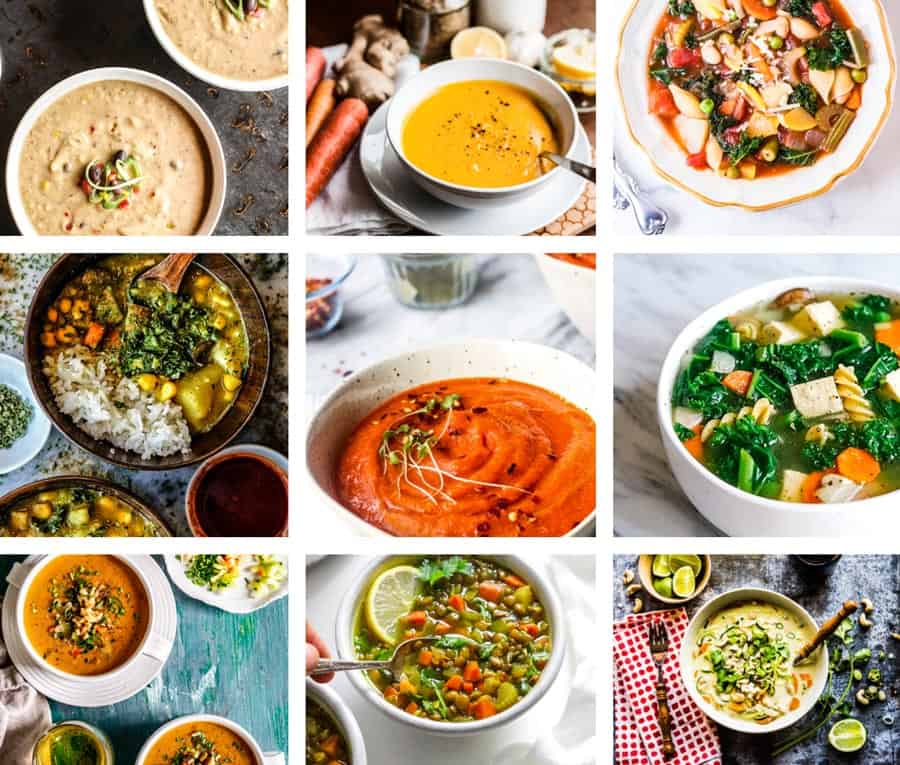 I've got a rawkstar lineup of fall soup recipes to share with you today. These 10 incredible healthy soup recipes are all part of my free 10-day soup challenge. They are made with whole food, plant based ingredients, full of flavor, and just waiting to be a part of your Fall menu. I love soup and make it often, even while living in Florida. A good cup of soup helps me pretend cooler weather is coming.
As we move into the fall season, there are also so many new veggies coming up and ready to be put in hearty, savory dishes. So let's dive right in!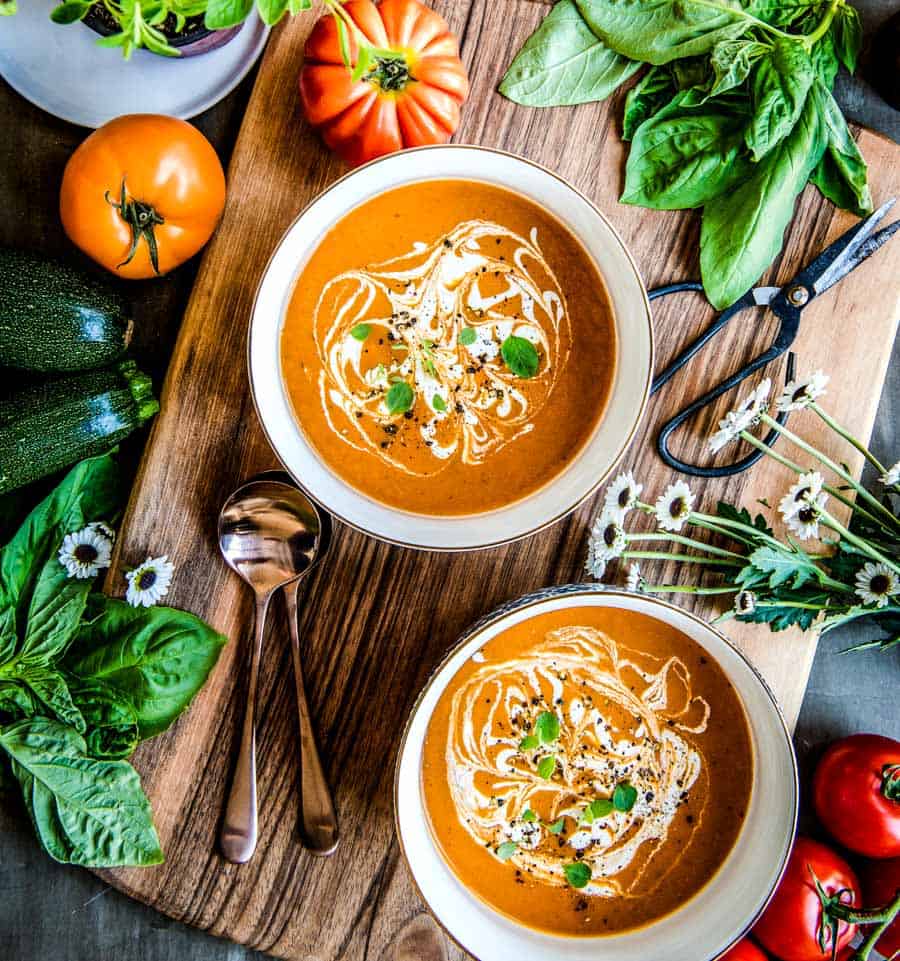 Vegan Tomato Soup
This tomato soup was originally created for my Simple Green Meals cookbook. I affectionately call it Sneaky Tomato Soup because it has carrots, celery and zucchini along with tomatoes, yet tastes just like my momma's tomato soup. I like to serve it with a dollop of cashew cream and eat along side toasted ciabatta bread slathered with pesto.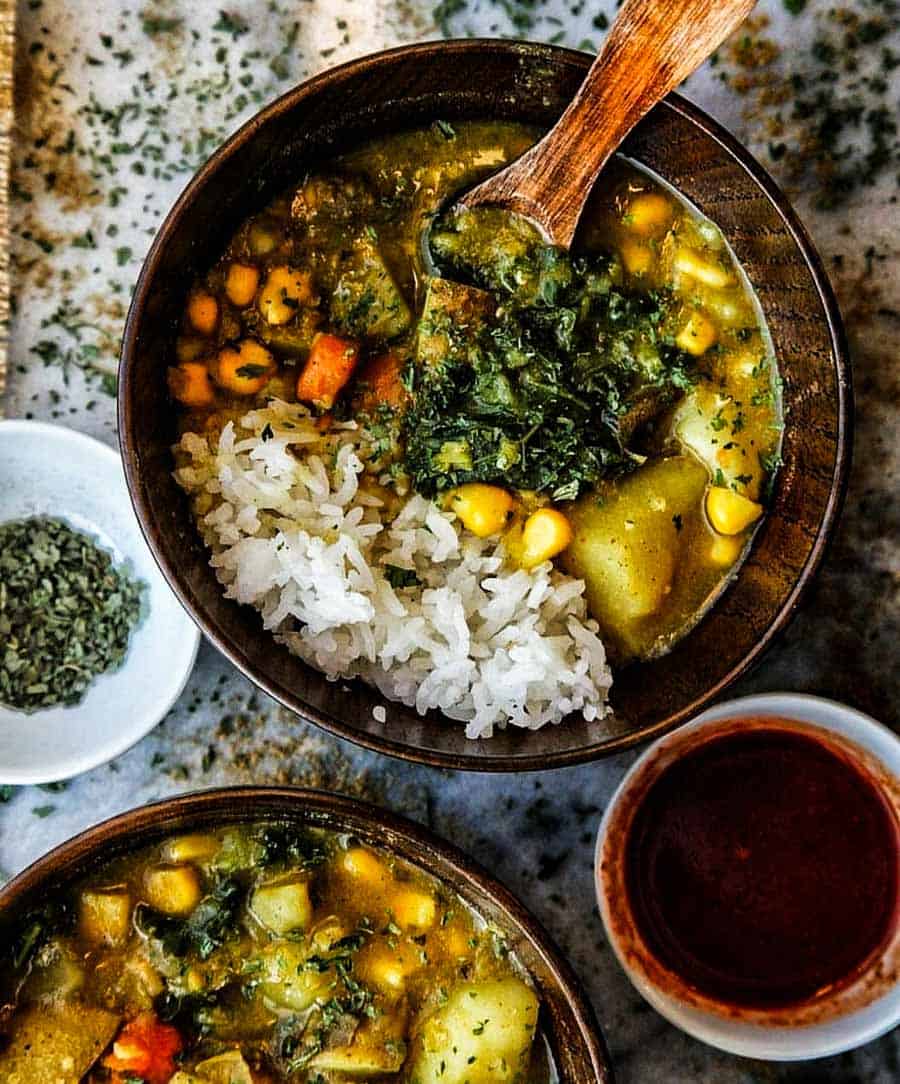 Red Lentil Curry Soup
I haven't yet found a recipe from Stephanie Williams that I didn't love… and this fall soup recipe is no exception. @VeganWhat is great at packing flavor into her recipes. You can make this soup with or without the rice, depending on the heartiness you're looking for in your soup.
Pro tip: Stephanie recommends using fire-roasted corn in this dish because it levels up the flavor.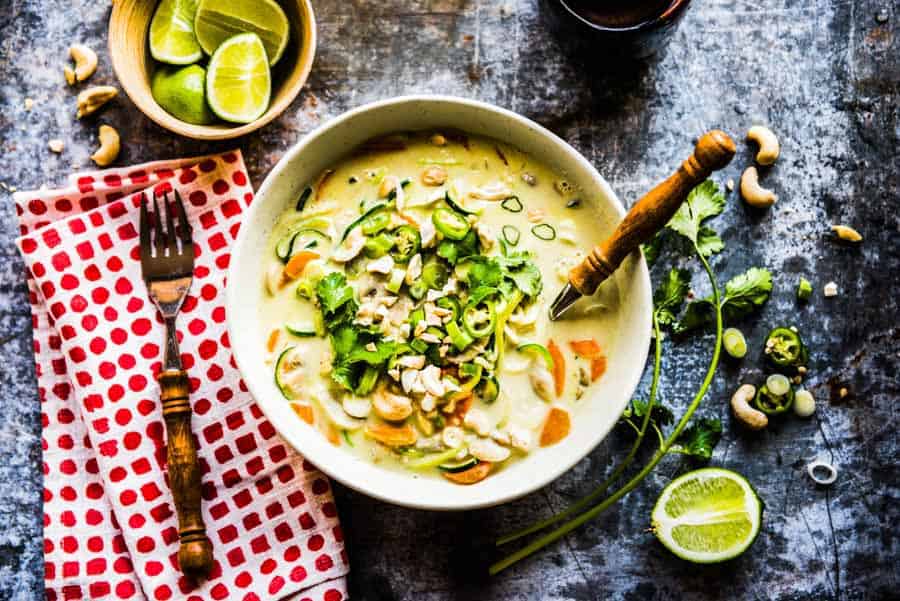 Thai Coconut Soup
My love for takeout Thai food led me to recreate one of my fav soups. This Thai-inspired soup is naturally vegan (kale yeah!) and can be spiced up or toned down as preferred. Don't skimp on the toppings in this healthy soup recipe; load it up with cashews, green onion and peppers.
Also, if this soup is slightly outside your comfort zone, just know that I take it to all kinds of gatherings and always get asked for the recipe. So just dive in and try it.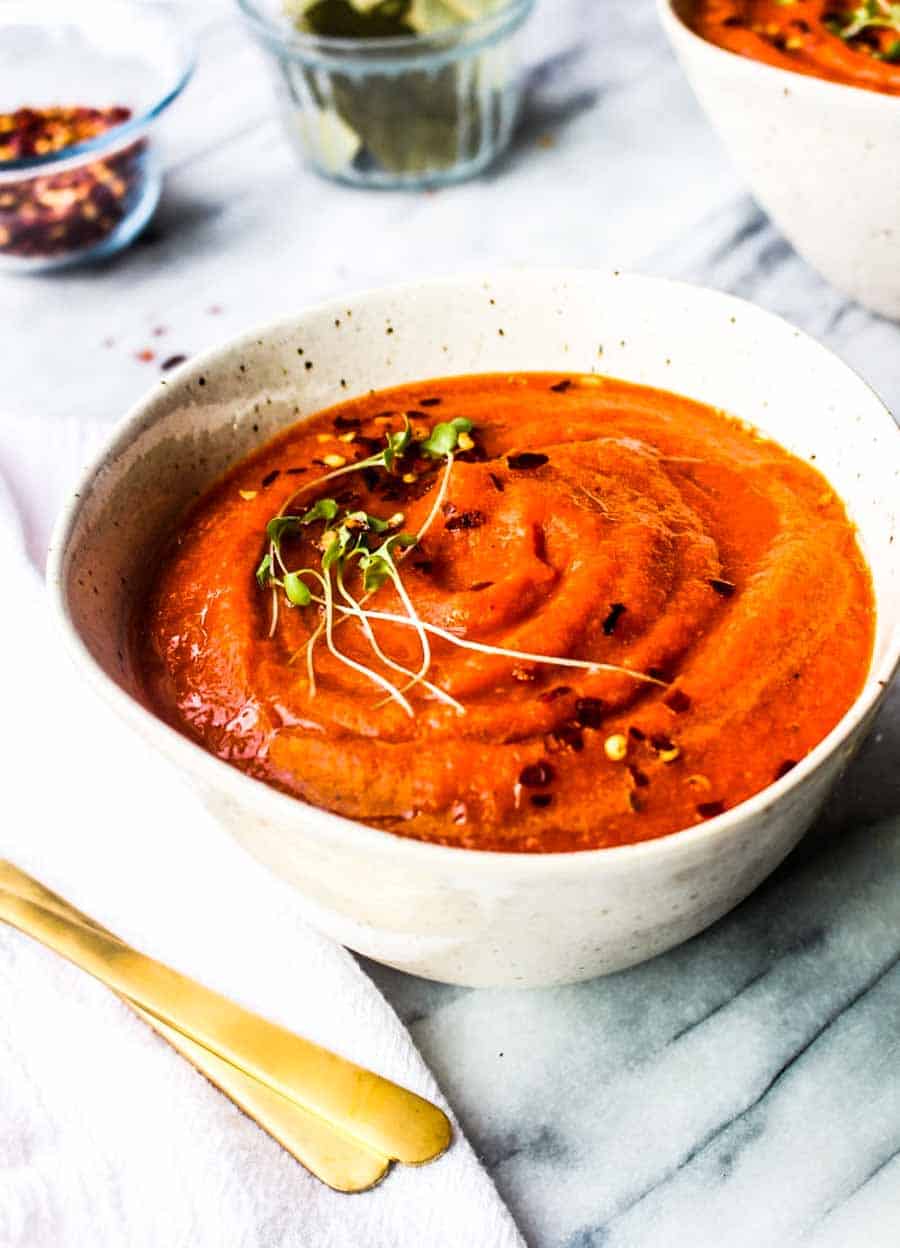 Spicy Roasted Red Pepper Soup
You had me at spicy! Laurel Perry of @DarnGoodVeggies combines the delightful taste of roasted red peppers with a whole host of fall vegetables in this healthy soup recipe. You control the amount of red pepper flakes in this soup, so feel free to skimp or add extra depending on your heat tolerance.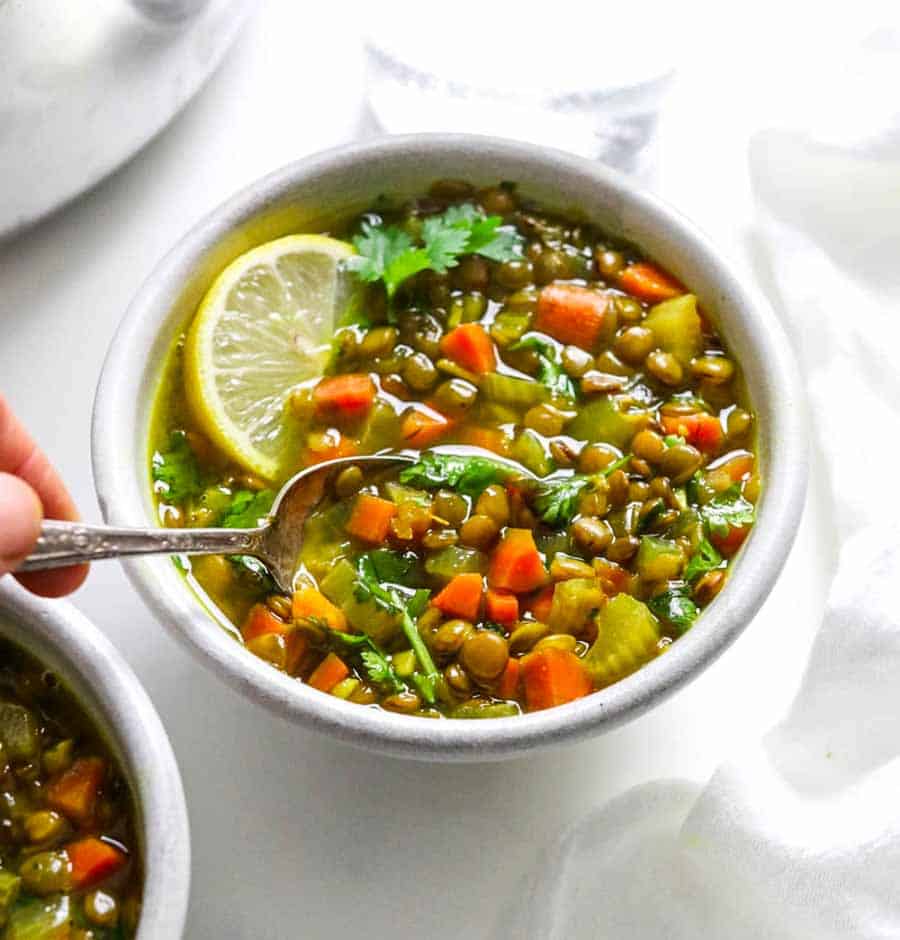 Ultimate Detox Soup
If you're on the lookout for a healthy soup, then Megan Gilmore's of @Detoxinista got you covered. Her detox soup contains several anti-inflammatory ingredients that can help your liver and kidneys do their detoxifying jobs well. This soup is mild and comforting.
Pro tip: I love topping this healthy soup recipe with vegan pesto.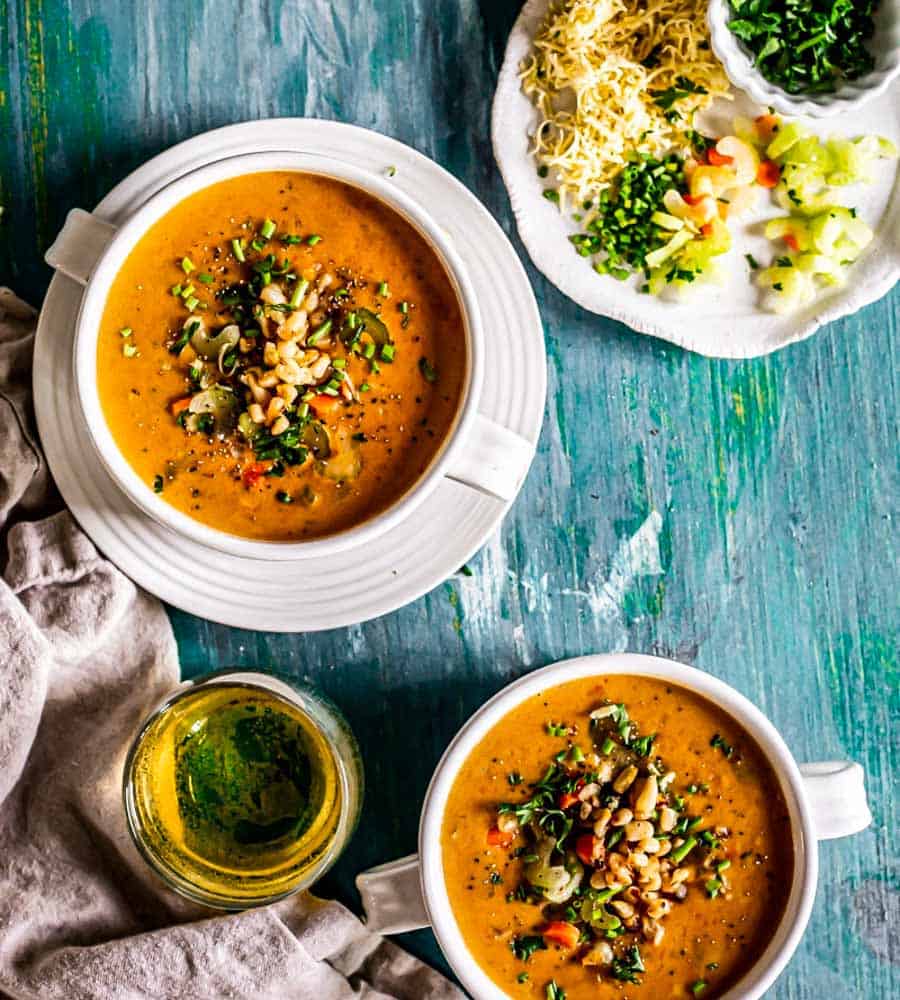 1-Pot Paprika Corn Chowder
These soup recipes for fall just keep getting better! Gina Fontana of @HealthyLittleVittles created a 30 minute, 1-pot chowder to feed the family… weeknight meals don't get any better than this. Chowder is traditionally full of dairy, yet this vegan take on a classic dish is still creamy + comforting.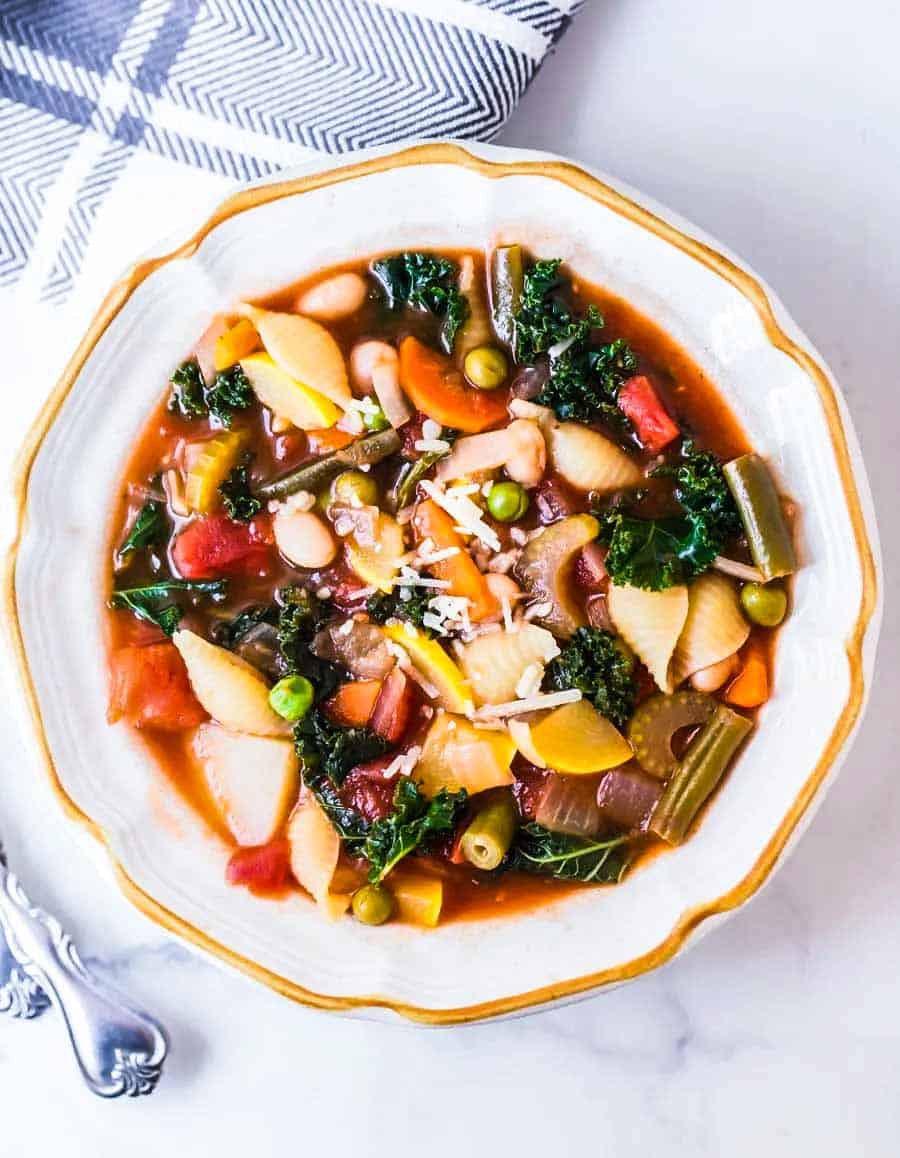 Classic Minestrone Soup
Next up on our healthy soup recipes list is a hearty minestrone from Melissa Griffiths of @BlessThisMessBlog. Minestrone is another reason why I love soup. You can swap in the veggies you have on hand for this recipe and still love it!
Pro tip: Use gluten-free pasta and vegan parmesan to make this gluten + dairy free.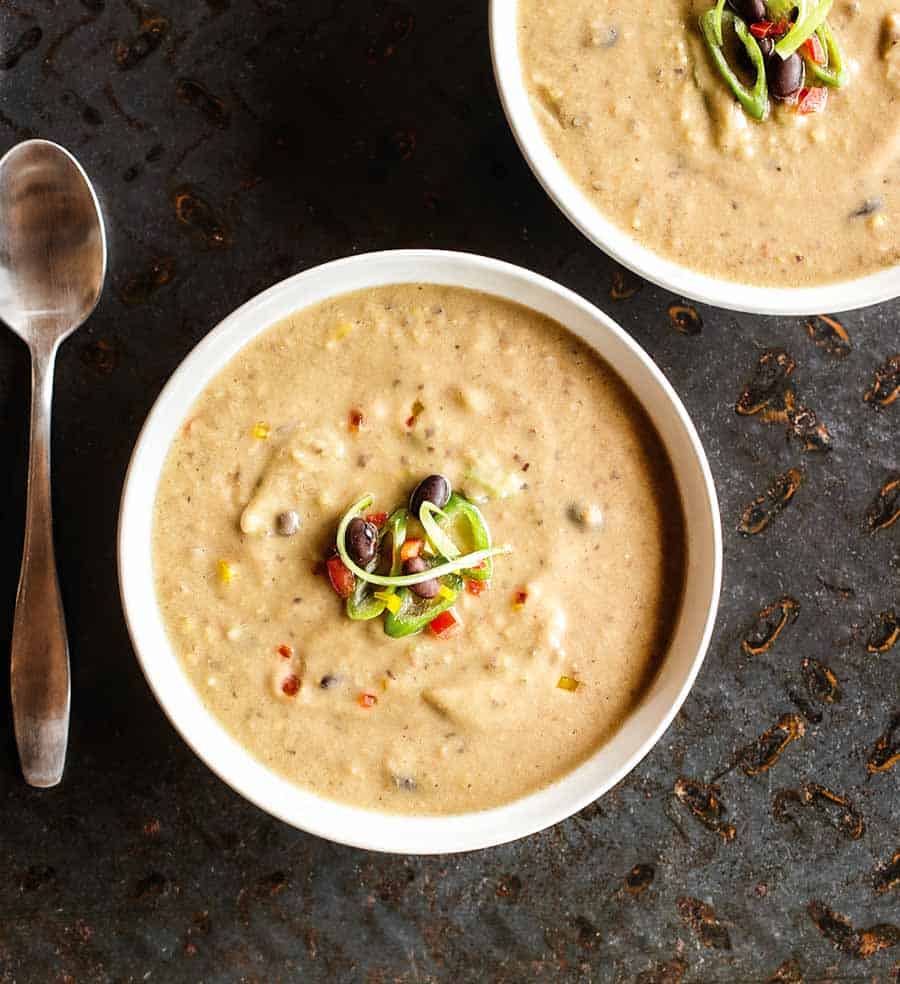 Black Bean Soup
@Vitamix contributed this soup recipe for fall and it was love at first sip for me. Black bean soup can be made completely in a blender (high-powered blenders actually heat up soup all on their own if blended long enough!) or on the stove-top. If you need a soup that fills you up, then this healthy dish is a great option.
I 100% added hot sauce to this healthy soup recipe… I just couldn't help myself!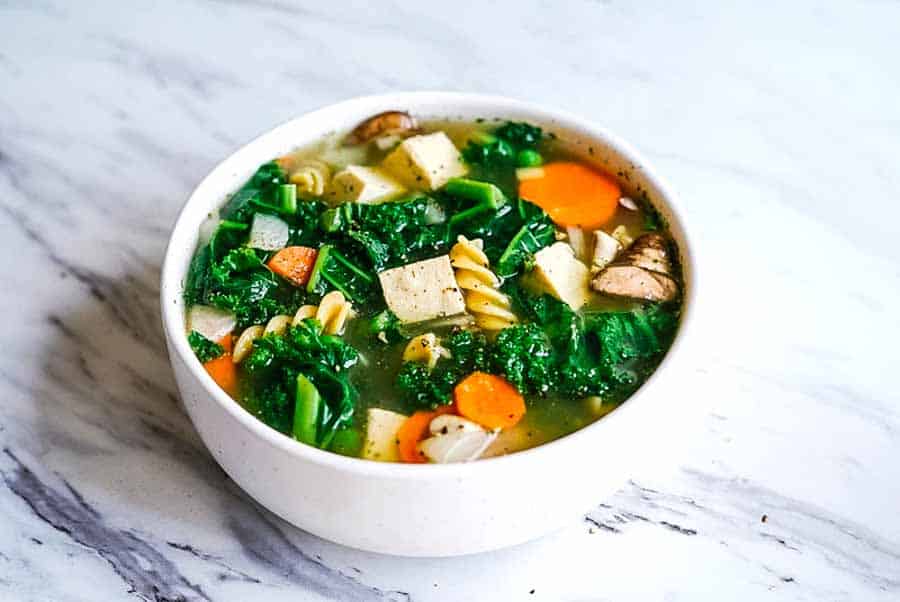 Vegan Chicken Noodle Soup
Carleigh Bodrug's take on a classic comfort soup is great! She runs @PlantYou (and has a gorgeous cookbook coming out soon!). Tofu brings texture and protein to this healthy soup recipe yet can be swapped with chickpeas if desired. You can also use gluten-free pasta.
Pressing tofu literally means squishing it. Place a block of tofu between 2 folded paper towels. Top with 2 more folded paper towels, a cutting board and a few cookbooks or heavy bowl. Let sit for 30 minutes to draw out the moisture. Once pressed, add in step 3.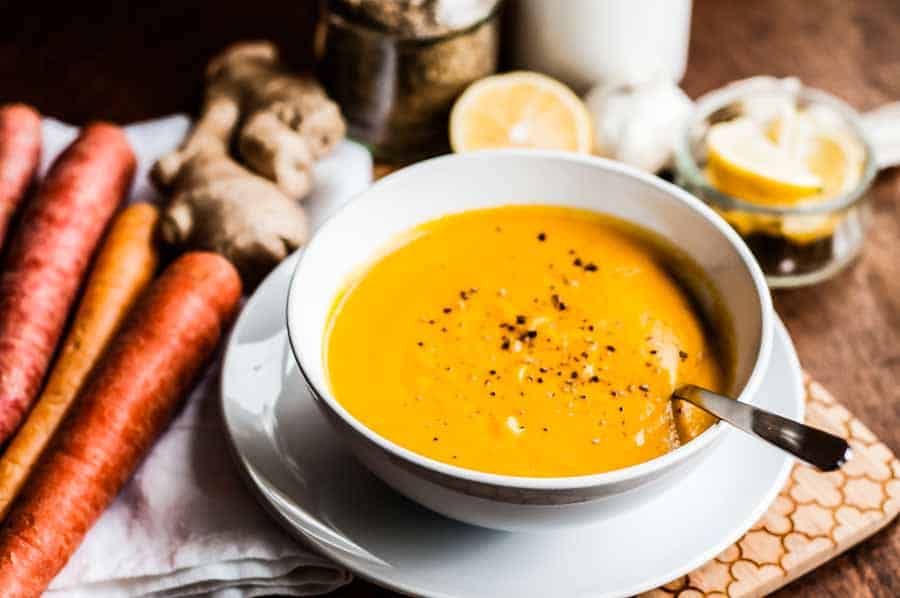 Carrot Ginger Soup
This soup is my fav to-go recipe. Blend it up then toss it into a thermos for a quick, warm lunch. This is one of the healthy soup recipes originally created for my Fresh Start Autumn cleanse. So you can rest assured it's got lots of Fall ingredients.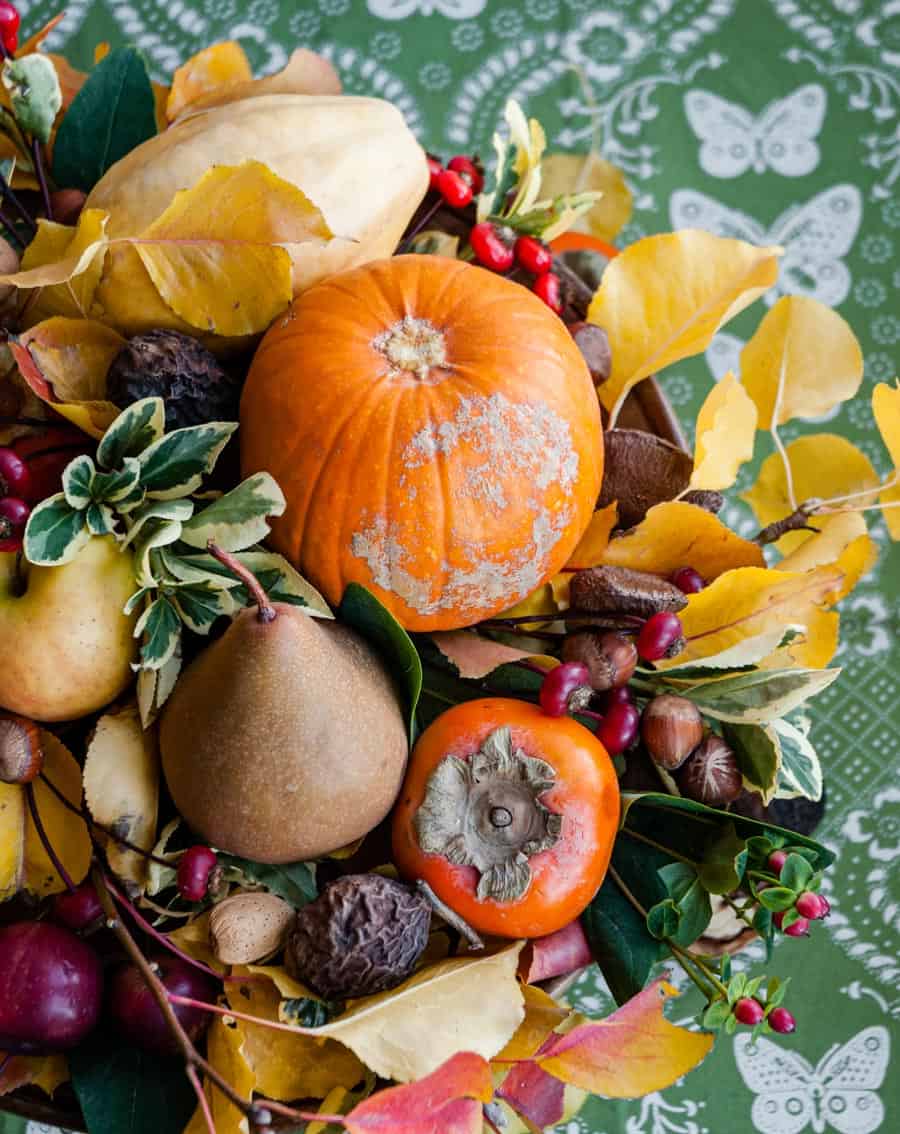 Fall soup ingredients
While I love the berries, squashes, and crispy produce of Summer, I find myself craving the buttery, hearty veggies of Fall. You'll find many Fall-fresh ingredients in the above healthy soup recipes because ingredients used in their proper season contain the most nutrients. If you're creating a fall kitchen garden, then pick from this list!
| | | |
| --- | --- | --- |
| Artichokes | Chiles | Pumpkins |
| Arugula | Edamame | Radishes |
| Beets | Eggplant | Shallots |
| Broccoli | Fennel | Spinach |
| Brussels Sprouts | Garlic | Sweet potatoes |
| Cabbage | Herbs | Tomatillos |
| Carrots | Kale | Turnips |
| Cauliflower | Leeks | Wild Mushrooms |
| Celery | Onions | Winter Squash |
| Chard | Potatoes | Zucchini |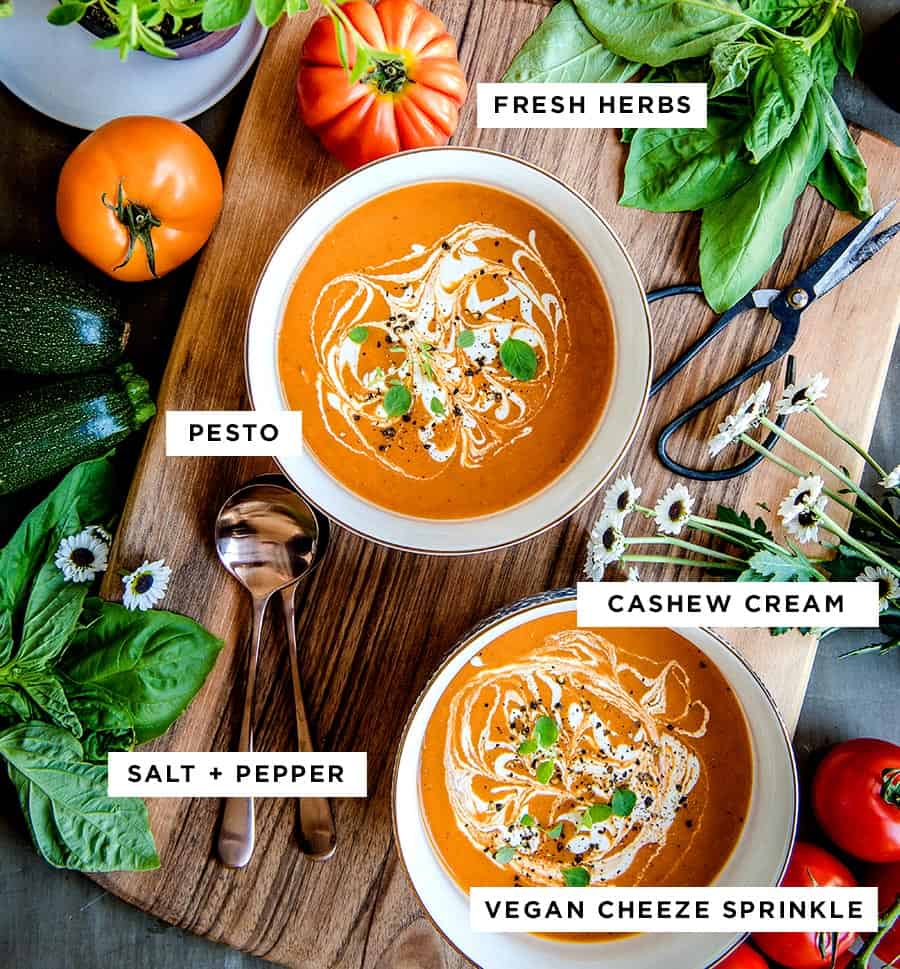 Versatile Soup Toppings
Sometimes you find a soup recipe in need of a little oomph. I get it (I put hot sauce on a LOT of dishes). Here are 2 quick n' easy recipes I keep on hand in a flavor emergency, or just to jazz up my meal:
Cashew cream: A good vegan sour cream can provide depth and creaminess to just about any recipe. If you'd add sour cream to a soup, then you can add this!
Pesto: There's just something about pesto that instantly levels up a recipe. I love adding a dollop of vegan pesto to a good vegetable soup. It's just so good! I've got a few different variations you can try, and they all freeze well.
Vegan cheese sprinkle: Parmesan is a staple in many American households. This vegan cheese sprinkle certainly gives Kraft's a run for its money… made with real ingredients that really do add a cheesy finish to your dish.
What are your go-to soup toppings? Leave a comment and let me know!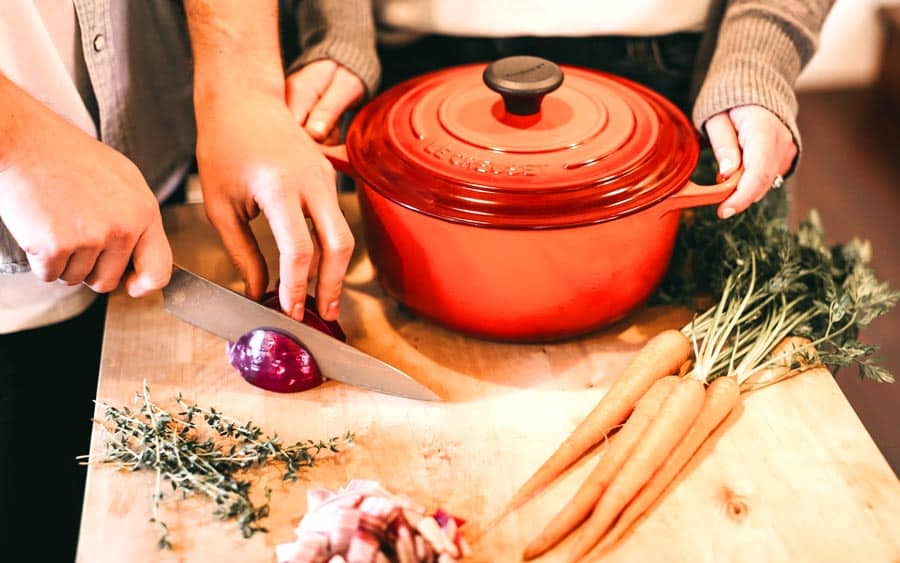 Soup-Making Kitchen Equipment
If you're ready to start whipping up some soup, then make sure you have these items in your kitchen:
A stock pot, crock pot, instant pot, ceramic pot… something that can hold 6 quarts.
A blender or immersion blender. Make sure your blender is rated for hot liquids if using.
A good knife + cutting board for chopping ingredients
That's it! Soup is great because you don't need a bunch of fancy equipment to make it, and many soups can even swap ingredients you have on hand and still taste delicious. Ready, set, soup!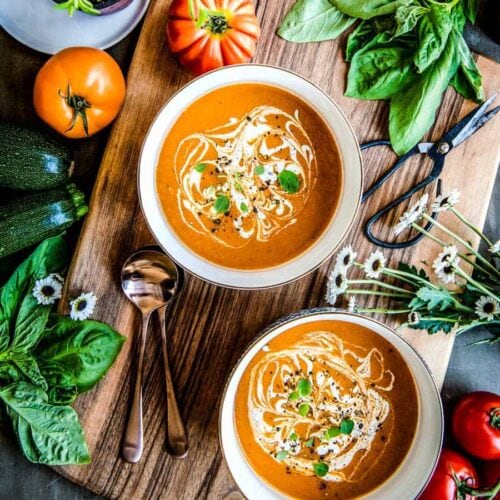 Print
Healthy Soup Recipe
This tomato soup recipe is perfect for a crisp Fall evening. It's dairy free yet still super creamy with the cashew cream. I loaded this recipe up with veggies to create a comforting + healthy soup recipe for fall.
Keyword
autumn recipe, dairy free recipe, gluten free recipe, winter recipe
Equipment
stock pot

immersion blender
Ingredients
1

tbsp

olive oil

1

yellow onion

diced

1/8

tsp

sea salt

1/8

tsp

black pepper

2

carrots

peeled and sliced

1

ribs

celery

chopped

2

garlic cloves

minced

1

zucchini

sliced

3

cups

vegetable stock

2

cups

diced tomatoes

undrained

1

tsp

italian seasoning
Instructions
Warm oil over medium-high heat in stock pot. Add onion and season with a little salt. Cook, stirring often, for 7 minutes or until the onion starts to soften.

Add carrots and celery and cook for 5 minutes, stirring occasionally. Then stir in garlic and cook for 1 minute, or until fragrant. Add the zucchini and cook for a few minutes, until it starts to soften.

Stir in vegetable stock, tomatoes, and Italian herbs. Bring just to a boil then reduce heat to low and simmer for 20 minutes, or until the vegetables are very soft and tender.

Remove soup from heat then blend using an immersion blender to puree soup. Season to taste with more salt and pepper, if needed. Serve with your choice of toppings.
Notes
Fire-roasted tomatoes (canned) gives this dish a rich, robust flavor that I am obsessed with.
Feel free to spice this soup up with red pepper flakes, paprika, or fresh chopped chili peppers.
You can use olive oil or coconut oil in place of avocado oil.
If you have a blender that is heat-safe, then you can use a regular blender over an immersion blender. If your blender container is not heat safe, then allow your cooked soup to cool down before adding to the blender in batches to blend. If you want to serve after blending, reheat to eating temp after pureed.
To keep this soup nut-free swap out the cashew cream topping for a dairy-free sour cream of your choice.
Nutrition
Calories:
97
kcal
|
Carbohydrates:
15
g
|
Protein:
2
g
|
Fat:
4
g
|
Saturated Fat:
1
g
|
Polyunsaturated Fat:
1
g
|
Monounsaturated Fat:
3
g
|
Sodium:
824
mg
|
Potassium:
530
mg
|
Fiber:
3
g
|
Sugar:
8
g
|
Vitamin A:
5764
IU
|
Vitamin C:
25
mg
|
Calcium:
76
mg
|
Iron:
2
mg
The post 10 Healthy Soup Recipes for Fall appeared first on Simple Green Smoothies.