Get cozy with one of these 30+ vegan comfort food recipes to enjoy all fall/winter long. You'll find everything from breakfast to dessert.
The season for comfort food is upon us! As much as I hate saying goodbye to summer, rounding up all these yummy comfort food recipes does have me looking forward to colder weather now. This round up includes more than 30 of my favorite comfort food recipes from the archives. You'll find recipes for oats, soups, muffins, salads, mains and more! Use the links in the table of contents below to jump to each category.
Breakfast Recipes
Pumpkin Baked Oatmeal: I love baked oatmeal as a simple meal prep option for the week and this pumpkin spice version is perfect for the colder weather. Top with chopped pecans and a drizzle of milk to serve.
Pumpkin Spice Smoothie: Switch up your smoothie for fall with this pumpkin spice smoothie. This recipe is a great way to use up any leftover canned pumpkin you may have from other recipes.
Super Seedy Granola: This super seedy granola does not last long in our house! It is packed with healthy fats and fiber thanks to the flax seeds, chia seeds, and nuts.
Vegan Breakfast Cookies: Who says you can't have cookies for breakfast? These delicious oat based cookies are loaded with fiber and healthy fats to help you feel full longer.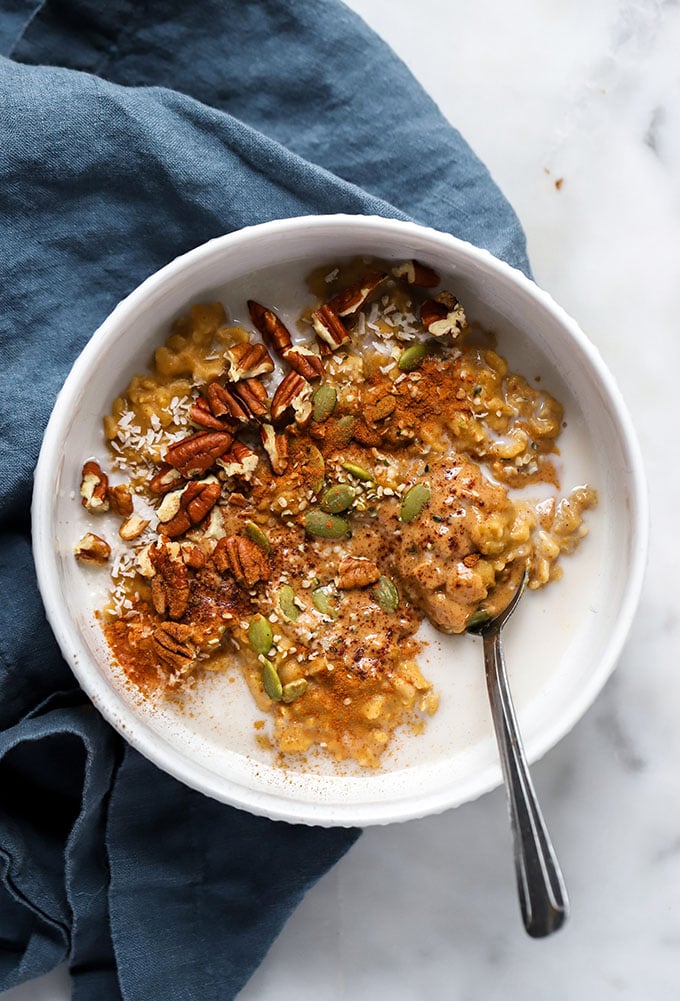 Pumpkin Spice Oatmeal: This poor pumpkin spice oatmeal recipe was buried in the very back of my blog archives so I gave it some pretty photos! I make it on repeat most mornings during the fall.
Carrot Cake Oatmeal: Warm up on a chilly morning with a bowl of this carrot cake oatmeal which incorporates all the flavors of your favorite dessert in a healthy vegan breakfast.
Pumpkin Spice Granola: A chilly morning is no match for the warming spices in this yummy vegan pumpkin spice granola chock full of pistachios, pumpkin seeds, coconut, and pecans. 
Main Dish Recipes
Vegan Baked Ziti: Cashew cream and tofu ricotta take this baked ziti to the next level. This one freezes well if you want to make it ahead.
Vegan Macaroni and Cheese with Broccoli: Boxed mac and cheese is great, but sometimes you really want the homemade version. This is my go-to recipe when I'm craving some cheesy childhood favorite.
Lentil Meatballs with Curry Sauce: You might want to double the curry sauce for these meatballs because it is so delish! Serve these over rice to complete the meal.
Healthy One-Pot Cauliflower Stew with Curry: This one-pot wonder is actually one of my absolute favorite recipes on the whole blog! Serve it up with rice or pita to round out the meal.
Spaghetti Squash with Romesco Sauce: Pasta is such a great comfort food option – this romesco sauce makes it taste great! Switch it up sometimes and do spaghetti squash instead of pasta.
Vegan Peanut Curry with Chickpeas and Sweet Potato: The warm spices, peanut butter, and sweet potato in this recipe knock it out of the park flavor-wise. It also packs well is you want to meal prep for the week.
Vegan Meatballs with Mushroom Gravy: This recipe is one of my favorites for the holiday season. I've made it a couple of times for Thanksgiving actually!
Vegan Spinach and Mushroom Lasagna: Who says you can't have a good lasagna without dairy cheese?! This vegan spinach and mushroom lasagna is loaded with flavor thanks to a creamy cashew sauce and simple tofu ricotta.
Lentil Pot Pie: When I think of comfort food, recipes like this pot pie are one of the first that come to mind. Although it may sound complicated, this recipe actually cooks up in just one pan!
Vegan Curry Soba Noodles with Crispy Tofu: Love a good noodle dish! This soba noodle recipe is loaded with color from the cabbage and carrot ribbons and topped with a creamy coconut milk sauce.
Easy Tofu Pumpkin Curry: Love the extra color and creaminess that the pumpkin adds to this super say tofu pumpkin curry.
Vegan Shakshuka: A classic one-pot entree option that cooks up in 30 minutes or less. Serve it with rice and some pita wedges to round out the meal.
Soups, Salads and Sides
One Pot Red Lentil Pumpkin Soup: This lentil pumpkin soup is a fan favorite every fall. Red lentils cook quickly so this is a great option for weeknights when you don't have a lot of time to cook.
4 Bean Vegan Crockpot Chili: Who doesn't love a good crockpot recipe? This 4 bean vegan chili is loaded with flavor plus loaded with all the good-for-you nutrients from the beans like fiber!
Vegan Crockpot Minestrone Soup: This minestrone soup is comfort food at its finest. Love making a pot of this and enjoying it while wrapped up in a blanket on the couch.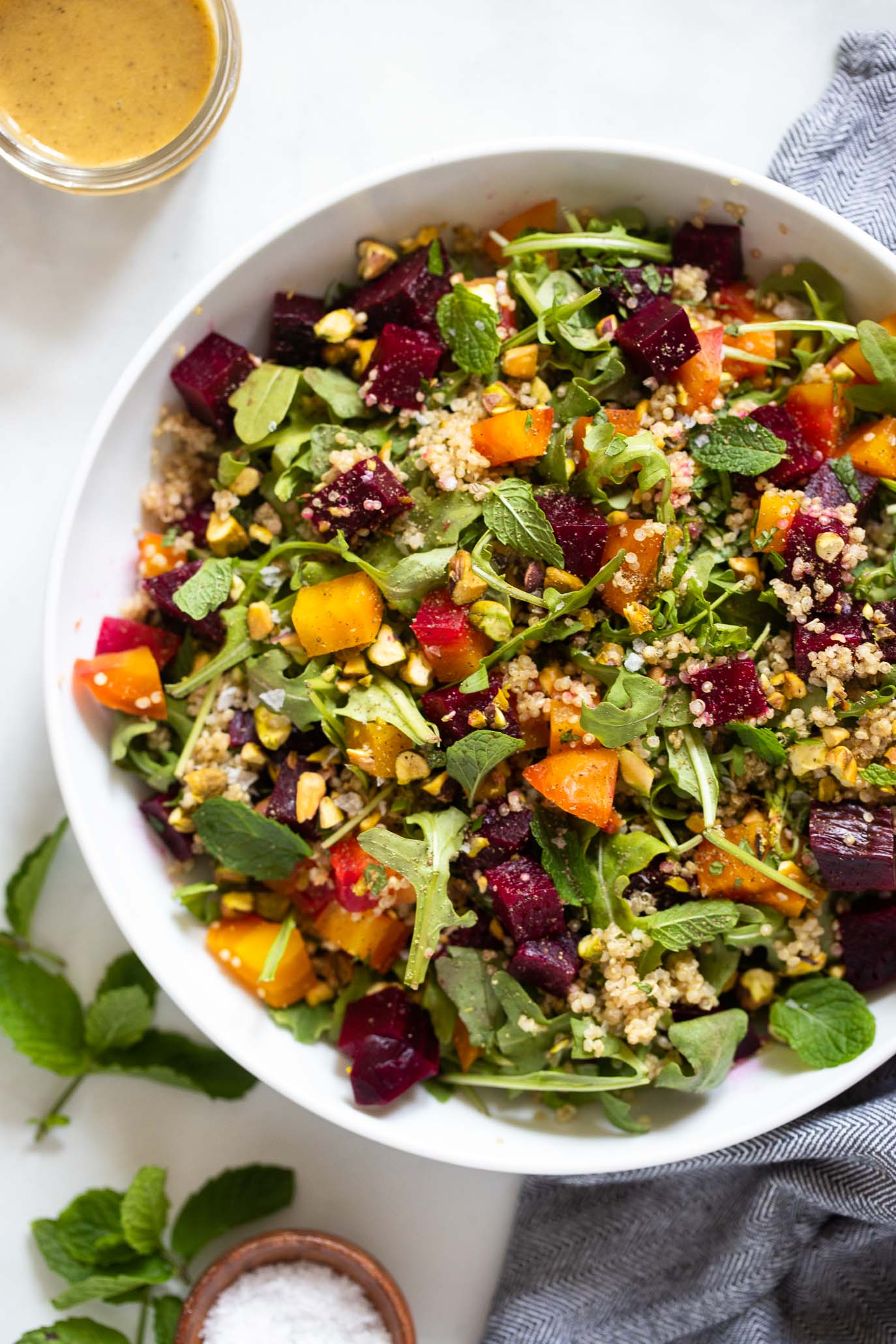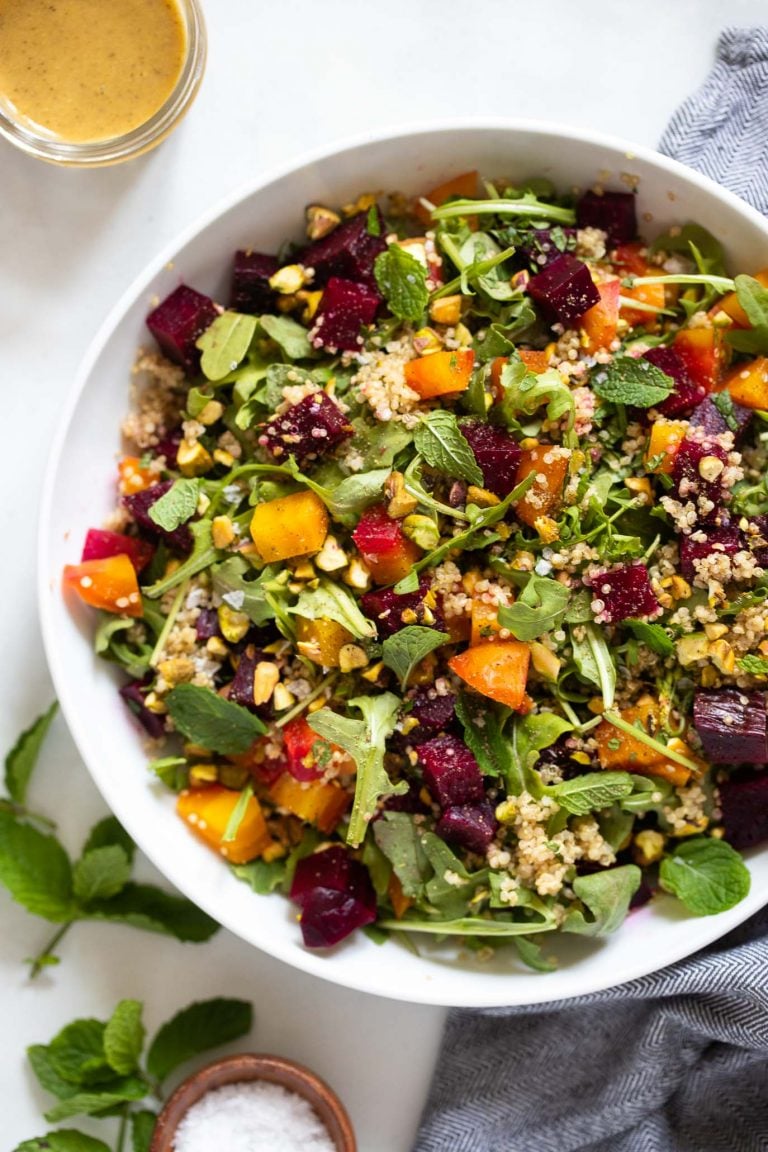 Roasted Beet Salad with Quinoa and Arugula: This salad is an old one from the archives that I recently refreshed. I have been eating it for lunch over the last few days and I can't get enough!
Vegan Broccoli and Cheese Soup: You'll be sure to love this vegan broccoli and cheese soup! Canned coconut milk gives it the extra rich creaminess that you normally have in broccoli cheese soup without the dairy.
Warm Farro Salad with Roasted Vegetables: I love making grain based salads like this one so that I can pack it in my lunch for work.
Vegan Broccoli and Cheddar Stuffed Baked Potatoes: Who doesn't love a great stuffed baked potato?! Here is a veganized version of a classic – broccoli, cheddar, and bacon. Yum!
Italian Farro Soup: The oven roasted garlic in this farro soup takes the flavor to the next level. Roasting the garlic may seem like a bit of a drag, but it is totally worth it!
One Pot Black Bean Soup: This black bean soup is a pantry friendly favorite around here since basically all you need to recreate it are a couple cans of black beans, canned tomatoes, broth, and onion.
Balsamic Herb Roasted Vegetables: Bring out the best in your farmers market produce this fall/winter with this balsamic herb roasted vegetable recipe.
Simple Curry Spiced Quinoa: This is a fan favorite recipe from the blog and with good reason – it's delicious! It's a great recipe for meal prep on the weekend since it packs well for a work lunch.
Apple Walnut Salad with Maple Mustard Vinaigrette: This is an old recipe from the archives that I recently gave a facelift. I forgot how much I loved this salad!
Sweet Stuff (Muffins, Dessert)
Vegan Bourbon Apple Crisp: Apple crisp is one of my favorite fall/winter desserts and it is so simple to make! I love the hint of bourbon flavor in this one.
Vegan Pumpkin Chocolate Chip Muffins: These are a staple in my house as soon as the calendar turns to fall. They freeze well so make a double batch!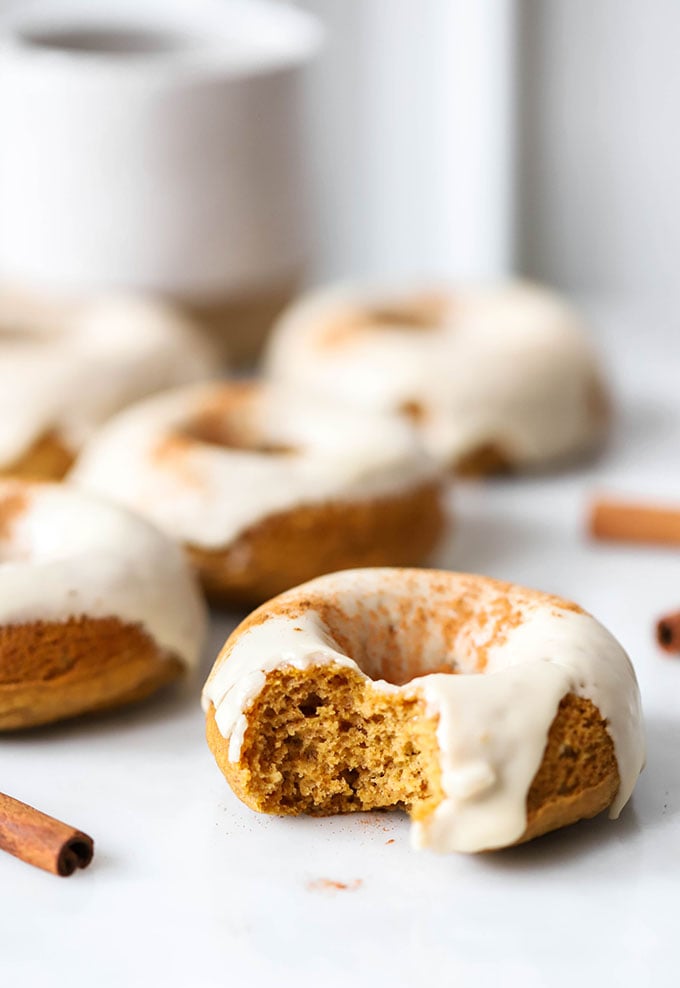 Vegan Pumpkin Donuts with Maple Frosting: There's nothing better than enjoying one of these with a cup of coffee in the morning. Baked donuts are super simple to make and these pumpkin donuts are perfect for fall.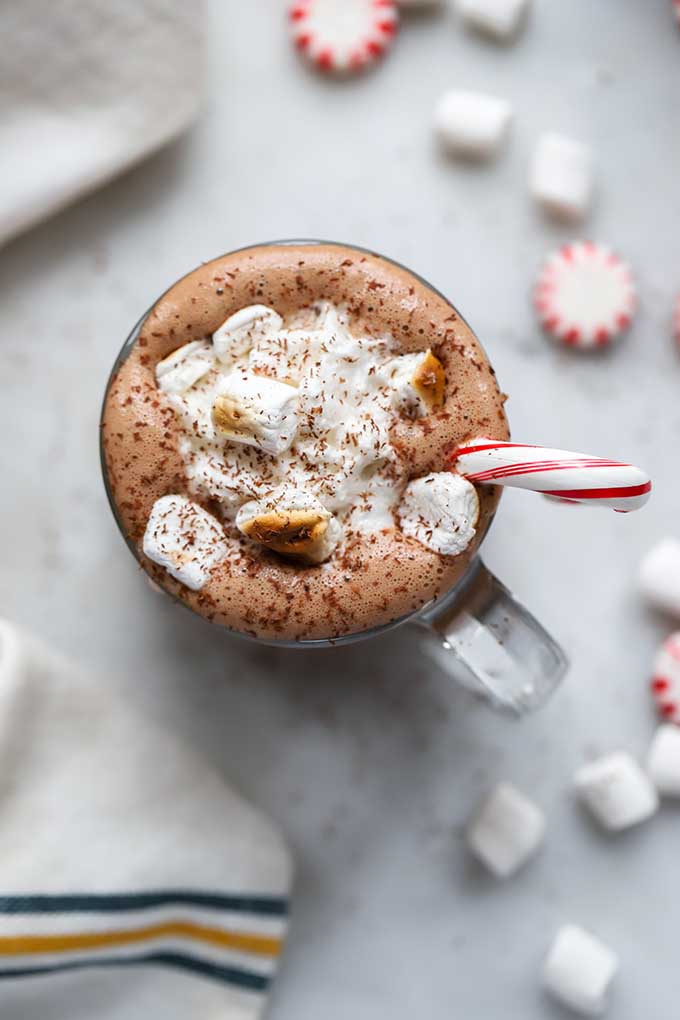 Vegan Peppermint Hot Chocolate: There's nothing better than a cup of hot chocolate on a snowy winter day. This vegan peppermint hot chocolate is extra creamy and rich with the help of some blended cashews. Serve with your favorite toppings like vegan whipped cream and a candy cane.
The post Vegan Comfort Food Recipes for Cold Weather appeared first on Dietitian Debbie Dishes.